Top Ten Realizations of Students in Recovery
Lissa Franklin is a current University of Miami student and a Clinical Outreach Coordinator at Life of purpose. Our director of Technology, Jimmy Hatzell, was a 2015 Penn State graduate and former president of the Penn State Collegiate Recovery Community. Jimmy and Lissa sat down together to brainstorm the top ten realizations that they made when perusing their education as students in recovery.
10. Projections are worse than realty
Source: http://i.imgur.com/ATUipLV.gif
Jimmy: I have a tendency to project on situations. I usually play out the worst possible scenario in my head before going in a situation. Some common projections are failing out of college, being unable to make friends, or knowing for sure that everyone will notice that I am the only one not drinking at the party. None of these things came true. Time spent in worry is time wasted!
9. Classes are a lot easier sober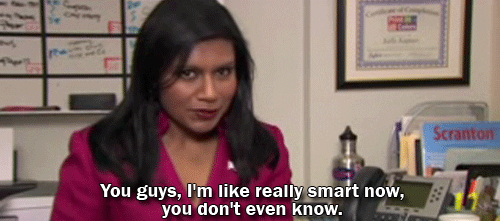 Source:: http://giphy.com/gifs/the-office-college-mindy-kaling-oNHXVaotvMqQM
Lissa: Math is my least favorite activity, in the entire world. I strongly dislike all types, and forms. It has never been my strong suit. Upon entering college again, I had to retake statistics, as I had failed it 4 times prior. Mind you, all 4 times I was in active addiction. Not taking that into consideration, I was negative Nancy and extremely hard on myself that entire semester. I ended up getting 105% in the class, because I did any and all extra credit, too. When I transferred to a University, I had to take statistics for a 6th time (yay for non-transferable credits)- I ended up getting a 94% the 6th time. The difference between the first 4, and my last 2, is that I was now a student in recovery. I now had a clear mind, purpose, and direction. This self-destructive thought process happens often, especially during major exams. I can also tell you, that every single time it happens, I achieve excellence- so, I beat myself up prior for no reason at all. As students in recovery, we are brilliant, we are talented, and we are completely capable- never forget that.
8. You wonder when you had the time to get high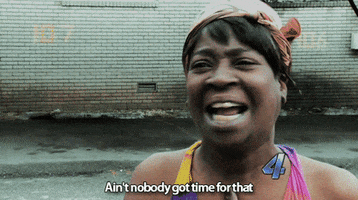 Source: https://media2.giphy.com/media/ILmqMop0Q0xsQ/200_s.gif
Jimmy: Sobriety picks up and so does life. Between balancing work, school, friends, family, and my recovery program I wondered how I managed to spend so much time out there getting high. I find myself extracting everything I can out of life and getting high is no longer a priority!
7. Yoga not required, balance is a must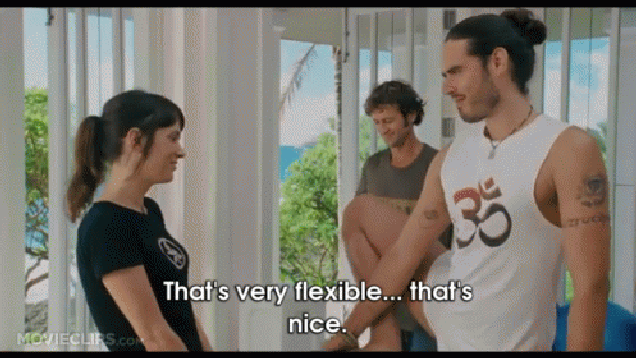 Source: https://i.kinja-img.com/gawker-media/image/upload/s–UHGlpNZ6–/c_fill,fl_progressive,g_north,h_358,q_80,w_636/z3aqhadnj0r7vxsw3a51.gif
Lissa: Whether it be through physical movement, or my redundant life routines- I was not flexible. I had to be willing to bend, or I was going to break. Driven by fear (which I have learned through recovery, means: False Evidence Appearing Real) of my past academic track record, I was all or nothing about succeeding. In my mind, the only acceptable letter to earn, was an A- anything below that, was considered an F. While there is nothing wrong with internal drive to achieve excellence, there is a fine line between that and, perfectionism being the highest form of self-abuse. My lack of balance was causing me to be so top-heavy, that I was close to becoming a real life rendition of Humpty Dumpty. Achieving balance between my recovery, school, work, and social life- was the pivotal point of my true success within academia, as well as, total life satisfaction.
6. You actually do all those things that you said you were going to do when you were using
Source: https://media1.giphy.com/media/kLWG2IlYs2rSg/200_s.gif
Jimmy: In under two years of recovery I have seen Jay-Z, Phish, Action Bronson, Lauryn Hill, The Roots, Snoop Dogg, Ed Sheeran, NIcki Minaj, and many other performers. I have lived in five different houses in three different states. I have snowboarded in Colorado, camped in PA and NY, and kayaked in the everglades. I've bought plane tickets to a city I've never been to with the only goal being exploration. I've earned two college degrees, a certificate of recognition from the NSA, started two companies, been hired four times, and made a ton of friends all over the world. I always wanted to do that stuff when I was drinking and using but it was all talk. I recovery i've learned something very valuable: TREAT YO SELF!!!!
5. Muggles will support you in your recovery
Source: http://missashleypants.com/wp-content/uploads/2014/08/muggleborn.gif
Lissa: I am fantastic at dress rehearsing tragedy, and I am Queen of all things drama. Upon entering the collegiate atmosphere, again, I had this preconceived notion that my life was going to be a reenactment of some played out D.A.R.E video. As if all the students were going to constantly peer pressure me because all the cool kids were using, or students would be playing drinking games on the middle of campus, or I would be constantly harassed for being in recovery. I was terrified about my reintegration with normal people. Much to my surprise, it was the exact opposite. First, no one knows I am in recovery, unless I tell them. The only time I look different than anybody else, is on the 8 am Monday morning campus shuttle bus, when I am showered and completely awake, as opposed to the majority of my bus mates who are still experiencing the weekend's side effects. Second, when I tell people they are SO intrigued, and they always have my back. I tell people because I am proud, and I also have to tell people when I am invited out. I have to protect my recovery, else I risk losing everything. Even when I tell people when I am invited out, 99% of the time they suggest another activity, substance-free, so I can still hangout. When I was in active addiction, I assumed it was normal to get obliviated, and that everyone was doing it. What I have learned, is that majority are not doing that- yes, it happens, but they are more inclined to develop lasting memories, inclusive of ALL of their friends, even if that means a night substance-free. Lastly, while they are intrigued, it's not a big deal to them. There is a bar on my campus, and often, if I am in a study group, students want to meet there. Too many times to count, a group member (that knew me well) would speak up, suggest the coffee shop on campus, and give me the "I got you" nod. If "why" was asked by another member, I would tell them and things would be kept moving. No pressure, no questions, just a smile, a "cool", and the meeting place would change.
4. Service is a must
https://images.bookish.com/cms/1395694411620-Hunger3.gif
Lissa: In my recovery, I was a coffee maker. That coffee commitment was so near and dear to my heart, I was so proud to have been bestowed such a responsibility, that for a while that coffee pot was my Higher Power. Having such a foundation in service, I continue to be actively involved in 12 step fellowship service. I have carried that love for serving, and implementation of change, with me to my level of campus involvement. Campus involvement makes me feel a part of a bigger picture, and it instills pride within my soul about my University of enrollment. Beyond that, it serves as a platform to shed positive light, and spearhead campus wide education about the beneficial magnitude of recovery. It creates the opportunity to imbed a collegiate recovery community within the walls of the institution. By doing so, one is helping retain student enrollment and tuition, raising the average GPA of the student population, and bringing the opportunity to expand the amount of published research by the University- most importantly, minds are being opened, stigmas are being broken, and lives are being saved.
3. They aren't looking at you funny
Source: https://s-media-cache-ak0.pinimg.com/originals/6d/d8/c1/6dd8c1d37ee3e5e3828649453ea6e0b8.gif
Jimmy: When I first started taking classes again I felt like I didn't fit in. I thought that everyone must have known that I was different. After a while I had the realization that no one had any idea that I didn't drink. Soon after I became comfortable with my sobriety and openly talked about it when it came up in conversation. No one looked down upon me. People liked me for who I was and the fact that I was in recovery was just an interesting fact about me. I wasn't treated different. I was a student, a classmate, a peer. The shame was all in my head!
2. Its okay to ask for help
Source: https://s-media-cache-ak0.pinimg.com/originals/e8/c1/99/e8c1993bfd6366f3d13b4ff3520df6a2.gif
Lissa: I didn't get clean alone, so I don't know why I expected to succeed in school alone. I had to ditch my ego at my pity party, and RSVP to the multiple resources available for academic success. Whether it was the thousand mundane hours spent in the math lab, online or face-to-face tutors, crying with my adviser, and stopping in professor's office hours- everyone was able, and more than willing to help. The biggest resource available to utilize, was my peers! Other students (in recovery and normies), who have walked through the same fears, conquered the same courses, and aced the same exams. Just like recovery, academic success is a team effort, and just like recovery, once you ask for help, a world of possibilities are all within one's reach.
1. I am not the only student in recovery
Source: https://media1.giphy.com/media/LI7OkTgFrnCgM/200_s.gif
Jimmy: Thousands of students across the country are in recovery. They are pursuing their degree and probably struggling with a lot of the same things that I struggled with in college. According to NPR, 135 universities have known student recovery programs. This is a number that is growing exponentially. Drugfree.org reports, "there are 23.5 million American adults who are overcoming an involvement with drugs or alcohol that they once considered to be problematic." As much as I love thinking that I am special, I am not the only one out there!